8th April 2006
This day in history...The Shedden Massacre: The bodies of eight men, all shot dead, were found in a field in Ontario, Canada. The murders are soon linked with the Bandidos motorcycle gang
Today's event highlights another major massacre in the history of the world and is an example of gangland crime and murder. Organised crime and gang massacres have occurred throughout history, dating back to 61AD with the Menai Massacre and continuing until the present day. The most famous massacres include the St. Valentines Day Massacre by Al Capone's gang in 1929 and the very recent Sandy Hook Elementary School Massacre by Adam Lanza in 2012. To give context to the Shedden Massacre, lets look at the organisation and history of the Bandidos Motorcycle Gang.
Image retrieved from Google. Will remove at owner's request.
The Bandidos Motorcycle Gang
The Bandidos Motorcycle Club: AKA the Bandido Nation, is a an organised crime syndicate with a worldwide membership. The club was created in 1966 by Don Chambers in Texas. The motto still stands today as "We are the people our parents warned us about." It is estimated to have 2,400 members in 210 chapters, located in 22 countries. The FBI and the Criminal Intelligence Service Canada have named the Bandidos as an "outlaw motorcycle gang." The chapters are divided around the world, with over 90 in the US, 90 in Europe, 17 in Australia, 1 in NZ and 1 in South-east Asia:
North America: The club is concentrated in Texas but extends out into over 15 other states. In Canada, the Rock Machine Motorcycle club in Montreal merged with the Bandidos in 2000. There was another chapter in Ontario but the Shedden Massacre was a dramatic internal conflict that led to their deaths.
Oceania: The chapters are widely spread across Australia and some have even taken part in bloodletting. The club attempted to spread to NZ by merging with former members of the Highway 61 members.
Europe: The European chapters have expanded across France, Scandinavia, Germany, Spain, Italy, Luxembourg and surrounding countries. As of March 15th 2014 a "Probationary Chapter" was also set up in Sittard, Netherlands. The club also hopes to expand to Russia and Eastern Europe.
Support Clubs: These support clubs are used as proxies for both legal and illegal activities. The groups usually wear reverse colours to those of the Bandidos. They also commonly wear a unique patch (Heart Patch) consisting of a round patch in the Bandidos colours on the front upper left of the vest. Most of the support clubs are regional.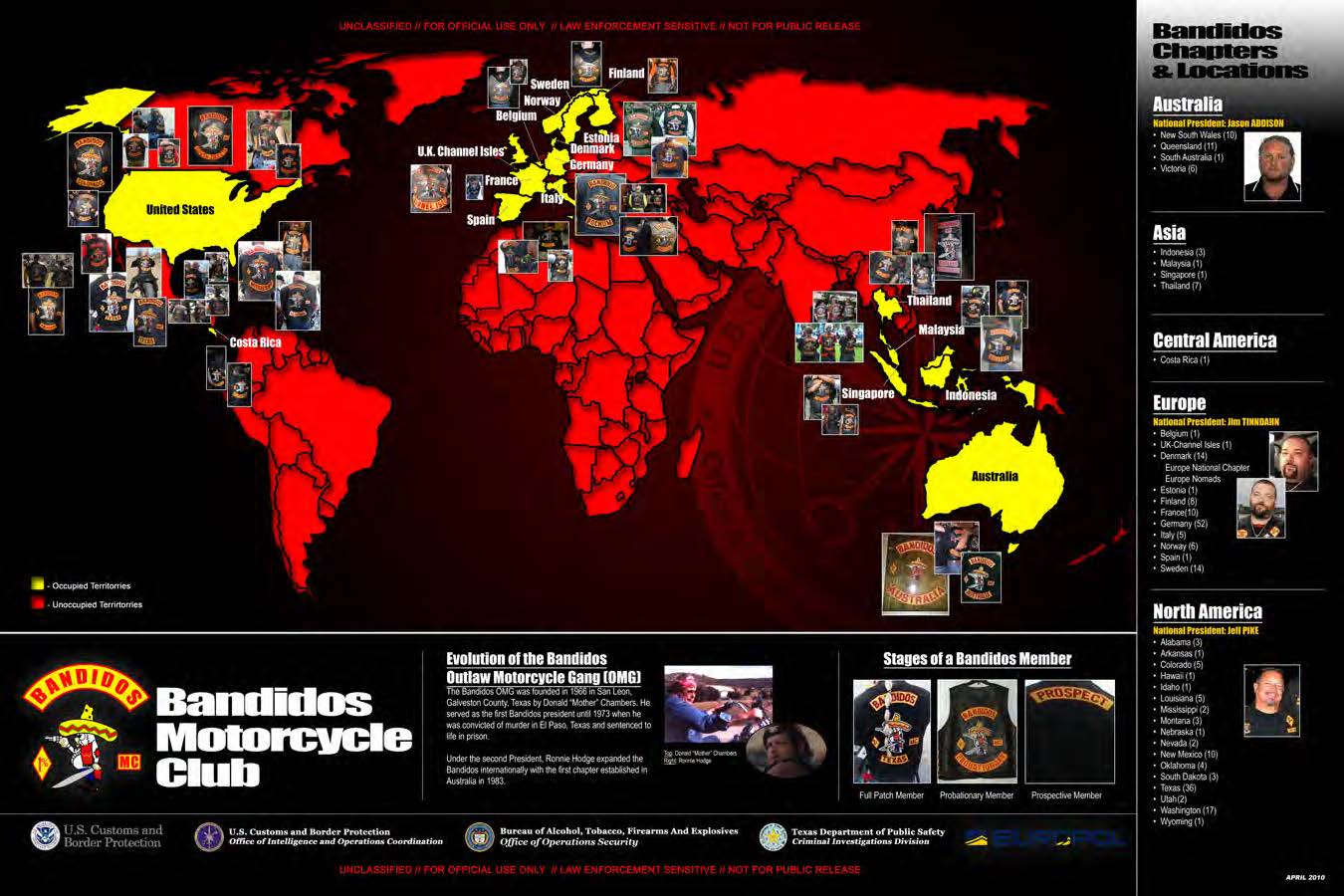 Image retrieved from Google. Will remove at owner's request.
The website showing the Worldwide Bandido Clubs
Image retrieved from Google. Will remove at
owner's request.
Support Patch
Criminal Involvement
United States:
November 2006, Glenn Merritt of the Bellingham, Washington chapter was sentenced to 4 years in prison for drug possession and trafficking of stolen property. 32 members were indicted in the associated investigation, on charges of conspiracy, witness tampering, and various drug and gun violations

August 2004, Robert Quiroga, International Boxing Federation Super flyweight champion was found lying next to his car. He had been stabbed multiple times. Richard Merla, a Bandidos member, was arrested in 2006 for the killing and was sentenced to 40 years in prison. He said; "I don't regret it. I don't have no remorse. I don't feel sorry for him and his family. I don't and I mean it." The Bandidos denied that they had any involvement in the crime and that Merla had acted with his own intentions - he was then expelled from the Bandidos

March 2006, Anthony Benesh was shot in the head by an unseen sniper. Benesh had been trying to set up an Austin chapter of the Hells Angels. As he was leaving a restaurant in Austin with his girlfriend and two children, he was shot in the head by a Bandidos member. The murder occurred on the same weekend as the annual Bandidos MC "Birthday Party". Benesh had been receiving phone calls from the Bandidos telling him to stop wearing a vest that displayed Hells Angels patches.
Image retrieved from Google. Will remove at owner's request.
Robert Quiroga murdered by Bandido Richard Merla
1993-1997, The Great Nordic Biker War was a turf and drug was between the Hells Angels and the Bandidos. It resulted in 11 murders, 74 attempted murders and 96 wounded members of both clubs. January 2009, the Bandidos Sweden President, Mehdi Seyyed, was sentenced to 9 years in prison for 2 counts of attempted murder. He bombed 2 cars in 2006 with hand grenades in acts of revenge.
Image retrieved from Google. Will remove at owner's request.
The Great Nordic Biker War
The Australian chapter was founded by Anthony Mark Spencer in 1983, following his split from the Comanchero Motorcycle Club. The most famous massacre here was the Milperra Bikie Massacre, a shoot-out with the rival Comanchero Club that killed 6 gang members and a young bystander.

2002, a Bandidos Motorcycle Club member was shot and wounded by 2 members of the Anthony Perish criminal gang network in Haymarket, New South Wales.

October 2008, Bandidos member Ross Brand was shot dead outside the clubhouse by rival Rebels Motorcycle gang
Image retrieved from Google. Will remove at owner's request.
Comanchero Gang, Australia
Quebec Biker War between Hells Angels, Rock Machine and Bandidos, 1994. In August, a jeep wired with a remote-controlled bomb exploded killing a Rock Machine associate and an 11 year old boy, Daniel Desrochers, who was playing nearby. A month later, a Hells Angels member was shot dead entering his car at a shopping mall. 9 bombs went off around the province during his funeral

The war ended with mass killings by the Hells Angels, plus a public outcry over the deaths of innocent bystanders.
Image retrieved from Google. Will remove at owner's request.
Rock Machine MC Quebec
This brings us onto today's event. On April 8th 2006, 4 vehicles were discovered by a farmer in Shedden, Ontario, Canada, containing the bodies of 8 murdered men. 6 of the men killed in this Shedden Massacre were members of the Bandidos Toronto Branch, including the President
of the organisation in Canada. The victims were;
Image retrieved from Google. Will remove at owner's request.
The victims: Top row: Chopper, Boxer, Goldberg, Pony
Bottom row: Crash, Bam Bam, Big Paul, Mike T
Luis Manny Raposo "Chopper"

John Muscedere "Boxer"

Jamie Flanz "Goldberg"

George Jessome "Pony"

George Kriarakis "Crash"

Frank Salerno "Bam Bam"

Paul Sinopoli "Big Paul"

Michael Trotta "Mike T"
The suspects of the crime were Michael Sandham, Marcelo Aravena, Frank Mather, Brett Gardiner, Dwight Mushey and Wayne Kellestine, who were also members (probationary). The police described them as members of an internal cleansing of the Bandidos organisation NSCC (No Surrender Crew Canada). The victims had been brought to Kellestine's farm where they were held captive before people led out of his barn and murdered 'execution style'. The bodies were discovered in a silver 2001 Volkswagen Golf, a grey 2003 Infiniti SUV, a grey Pontiac Grand Prix and a green Chevrolet Silverado tow truck. When police arrived at the barn, they found a scene filled with blood, pieces of flesh and beer bottles. They also noted Confederate and Nazi flags hanging on a wall. The murderers were described as "at the very bottom rung of biker gangs. Some were in their 40s but still lived with their parents. They were not making any money, many of them had been rejected by the Hells Angeles and half of them didn't even own a motorbike.'
Image retrieved from Google. Will remove at owner's request.
The Nazi flag found in Kellestine's barn
Image retrieved from Google. Will remove at
owner's
request.
Nazi symbol at the foot of Kellestine's garden
The trail took a lot longer than expected with defence lawyers pushing for lenient sentences. On October 29th, 2009, the jury returned 44 guilty verdicts for first degree murder and 4 for manslaughter. This was believed to be the largest number of murder convictions ever produced from a single criminal proceeding in Canada. Kellestine, Sndham and Mushey were found guilty of 8 counts of first-degree murder. Mather and Aravena were found guilty of 7 counts of first degree murder and 1 count of manslaughter. Gardiner was found guilty of 6 counts of first degree murder and 2 counts of manslaughter.
Image retrieved from Google. Will remove at owner's request.
The murderers; Top row; Sandham, Mather, Aravena
Bottom row; Gardiner, Mushey, Kellestine
It is shocking how much violence and death was caused by the Bandidos Motorcycle club and all the other organised gangs. Some see the clubs as protective networks of respect and power. Others see it as threatening and disastrous to society. If you want to find out more information check out their website by clicking

here

. You can also check out an interactive site by Peter Edwards, that looks at the Massacre,

here

.
What are your thoughts? What do you think can be done to control or shut down these gangs? Leave your comments below!
Don't forget to follow @Ydaysnews for more historical events each day!