15th July 1982
This day in history...The body of Wendy Lee Coffield, first victim of the Green River killer, is found in Seattle
Image retrieved from Google. Will remove at owner's request.
The Green River Killer
Gary Ridgway, AKA the Green River Killer, is America's most prolific and notorious serial killer. He was convicted in 2001 of murdering 48 women, but ongoing investigations and confessions from Ridgway himself reveal that he has murdered almost double the amount of women, and the number of victims is continuously rising. His killing 'career', as he likes to call it, took place in the 1980s and 1990s and caused a sea of terror and panic in the Seattle area. He is currently incarcerated at Washington State Penitenitary in Walla Walla, Washington, serving more than 480years: 48 life sentences for murder and 10 years for tampering with evidence. So is the Green River Killer?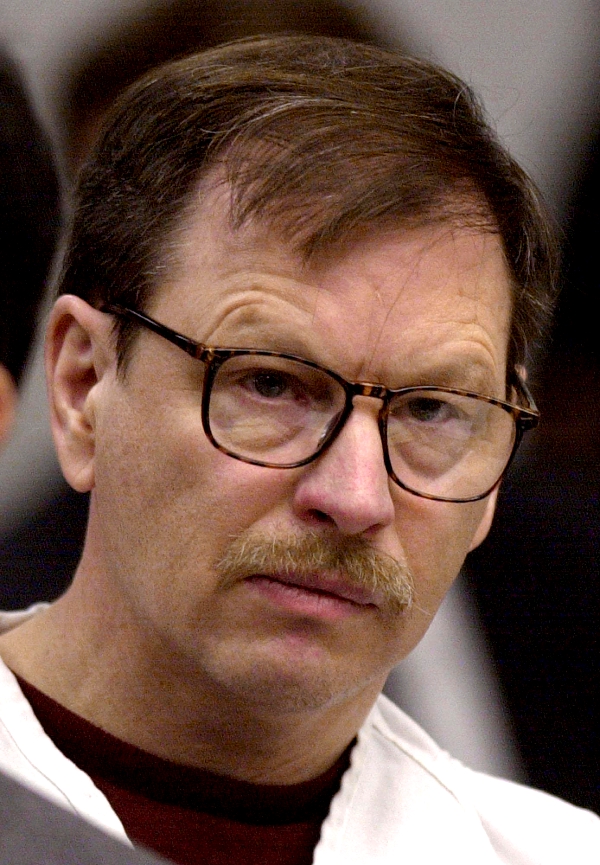 Image retrieved from Google. Will remove at owner's request.
Gary Ridgway
Gary Leon Ridgway: Growing up
Ridgway was born 18th February 1949 in Salt Lake City, Utah, and was raised in SeaTac, Washington. His father was a bus driver and his mother ruled the household. She was reportedly physically and mentally abusive towards Gary and his two older brother, and even her husband. Ridgway was a frequent bed-wetter and tortured animals; he locked a cat in a fridge until it died, on one occasion. He would also shoot birds down with a BB gun. He didn't do well in school and had an IQ of 82. He even had to redo a single school year twice, before being able to pass. In 1963, when Ridgway was just 14 years old, he attempted to kill a 6 year old boy, by leering him into the woods and stabbing him between the ribs. The boy survived and Ridgway was never caught. He also claims that he committed his first murder when he was a teenager, drowning a young boy by wrapping his legs around him while swimming and holding him under water until he drowned.
Image retrieved from Google. Will remove at owner's request.
Gary Ridgway,

sophomore at Tyee High School.
When Ridgway was 18, he married his high school girlfriend Claudia Barrows. Shortly after his marriage and graduation, he enlisted with the Navy and served in Vietnam. He had several affairs with prostitutes whilst in the military and contracted gonorrhoea. When he returned home, he and Barrows divorced after both had had affairs. He the applied to join the police force, however after failing, he found work as a car painter at a truck factory in Washington.
Image retrieved from Google. Will remove at owner's request.
Claudia Barrows
Ridgway later re-married in 1973 to Marcia Winslow. Their marriage was also short and ended for the same reasons. When interviewed later on, Winslow claimed that Ridgway placed her in a choke-hold. During their marriage, the couple conceived a son, Matthew, who has retained a good relationship with his father. According to Barrows and Winslow, Ridgway had an insatiable sexual appetite. He often demanded sex several times during the day and encouraged the women in his life to have sex in public and in the woods. Surprisingly, during his second marriage, Ridgway became highly religious and spent most of the time reading his bible. He was often seen crying after church sermons or reading Bible passages. He even went door to door for his Pentecostal church. Despite his new religious pathway, Ridgway often solicited sexual favours from prostitutes, whom he had a love-hate relationship with. Whilst he disliked them begin in his neighbourhood, he would take advantage of their services.

Image retrieved from Google. Will remove at owner's request.
Ridgway and Marcia Winslow
Ridgway married his third wife, Judith Mawson, in 1988. In later interviews with Mawson, she noted that when she moved in with him, there was no carpet in the house. Police have theories that the carpet was removed to wrap up one of Ridgway's victims. Mawson also explained how he would leave early in the morning for 'overtime work', and that she believed this to be the time in which his killings took place. It has been seen that Ridgway's kill rate went down when he married Mawson, and she thinks feels that she "has saved lives...by being his wife and making him happy."
Image retrieved from Google. Will remove at owner's request.
Judith Mawson and Ridgway on vacation, 2001
Throughout the 1980s and 1990s, it is believed that Ridgway killed at least 71 women near Seattle and Tacoma. He says he has 'almost lost count' of the amount of victims. The victims were believed to be either prostitutes or runaways picked up along International Blvd. 99. The victims were strangled and most of their bodies were dumped in the woods around the Green River. The bodies were often left in clusters and were posed, naked. Ridgway would occasionally return to the bodies to have sex with them. He tried to confuse police by scattering the dump sites with materials belonging to other people, and he even drove across state lines into Oregon with some victims' remains.
Image retrieved from Google. Will remove at owner's request.
Victim's body being moved 1983
Ridgway began each murder by picking up a woman, often a prostitute. He would sometimes show them pictures of his son, to gain their trust. After having sex with the women he would strangle them from behind with his arm. Due to the women scratching and bruising him, he later used ligatures to strangle them. Most of his victims were killed in his home or in his truck. In the 1980s the Green River Task Force started investigating the murders, after a boatman found a body in the river. Ridgway was arrested in 1982 and 2001 on charges related to prostitution. He became a suspect in 1983 in the Green River killings, however in 1984 he passed a polygraph test. During this time Ridgway's saliva and DNA samples were taken, which provided evidence for his arrest warrant. In 2001, Ridgway was arrested at the Kentworth Truck factory. He was arrested on suspicion of murdering 4 women nearly 20 years after first being identified as a potential suspect.
Image retrieved from Google. Will remove at owner's request.
Gary Ridgway Mugshot, 1982
In 2003, Ridgway entered a guilty plea to 48 charges of aggravated first degree murder. It was a plea bargain that would spare him the death penalty in exchange for his cooperation in locating the remains of all of his victims and providing other details. Ridgway confessed to more confirmed murders than any other American serial killer. In just 5 months, he had confessed to 48 murders - 42 of which were on the police's list of probably Green River Killer victims. In a series of interviews, Ridgway has revealed that he chose prostitutes because they were 'easy to pick up' and he 'hated most of them.' He claimed that he began burying his victims later on so that he could resist the urge to commit necrophilia.
Image retrieved from Google. Will remove at owner's request.
Wendy Lee Coffield's body in the Green River, 1982
The confirmed victims below are the evidence for Ridgway's sentencing. There are plenty more victims, but they are being slowly revealed as Ridgway continues to release names.
- Wendy Lee Coffield (16) - Martina Theresa Authorlee (18)
- Gisele Ann Lovvorn (17) - Cheryl Lee Wims (18)
- Debra Lynn Bonner (23) - Yvonne "Shelly" Antosh (19)
- Marcia Fay Chapman (31) - Carrie Ann Rois (15)
- Cynthia Jean Hinds (17) - Constance Elizabeth Naon (19)
- Opal Charmaine Mills (16) - Kelly Marie Ware (22)
- Terry Rene Milligan (16) - Tina Marie Thompson (21)
- Mary Bridget Meehan (18) - April Dawn Buttram (16)
- Debra Lorraine Estes (15) - Debbie May Abernathy (26)
- Linda Jane Rule (16) - Tracy Ann Winston (19)
- Denise Darcel Bush (23) - Maureen Sue Feeney (19)
- Shawnda Leea Summers (16) - Mary Sue Bello (25)
- Shirley Marie Sherrill (18) - Pammy Annette Avent (15)
- Rebecca "Becky" Marrero (20) - Delise Louise Plager (22)
- Colleen Renee Brocjman (15) - Kimberly L. Nelson (21)
- Sandra Denise Major (20) - Lisa Yates (19)
- Alma Ann Smith (18) - Mary Exzetta West (16)
- Delores LaVerne Williams (17) - Cindy Anne Smith (17)
- Gail Lynn Mathews (23) - Patricia Michelle Barczak (19)
- Andrea M. Childers (19) - Roberta Joseph Hayes (21)
- Sandra Kay Gabbert (17) - Marta Reeves (36)
- Kimi-Kai Pitsor (16) - Patricia Yellowrobe (38)
- Marie M. Malvar (18) - Unidentified White Female (12-18)
- Carol Ann Christensen (21) - Unidentified White Female (14-18)
Image retrieved from Google. Will remove at owner's request.
The victims
Media
In 2004, artist Phil Hansen created and displayed artwork depicting Gary Ridgway's face, composed of 11,792 portraits of the 48 victims

There have been several documentaries, films and television shows about the Green River Killer. The Riverman and Green River Killer are films based around the true story. TV shows like Everybody Hates Chris, and Dexter, have also referenced the killer.

Non-fiction and novels have also been published and show different sides to the story. Some look at Gary Ridgway from a psychological view, whilst others look at the hunt for the killer and the unravelling case

Several pieces of music have also been produced celebrating the lives of the victims and condemning the killer
Images retrieved from Google. Will remove at owner's request.
Phil Hansen's artwork of portraits
What are your thoughts on The Green River Killer? Leave your comments below
Don't forget to follow @Ydaysnews for more historical events each day!