2nd May 2011
This day in history...Osama Bin Laden, Mastermind behind the 9/11 attacks and the top of the FBI's most wanted list, is killed by United States special forces in Abbottabad, Pakistan
Image retrieved from Google. Will remove at owner's request.
Newspapers following Osama Bin Laden's death
This is without doubt one of the most anticipated, controversial and important events that the world has witnessed. Years of locating, researching and eventually
preparing for the attack on Bin Laden were spent by the US special forces and it remained the United States' biggest national security priority. Bin laden's death was considered an undeniable victory for America and for the underlining War on Terror. It also triggered a massive media frenzy, conspiracy theories and of course there is always an aftermath to focus on after such an event.
Image retrieved from Google. Will remove at owner's request.
President Barack Obama and Osama Bin Laden
Osama Bin Laden:
Born in Riyadh, Saudi Arabia in 1957/58

He was the 17th of 52 children born to Mohammed bin Laden, who owned the largest construction company in the Saudi Kingdom

Osama had a privileged, cosseted upbringing

Osama stayed close to home, went to school in Jiddah, married young and, like many Saudi men, joined the Islamist Muslim Brotherhood

Islam was more than religion to Osama - it influenced every decision he made

Osama travelled to Peshawar to join the resistance and encouraged young men to join

In 1988, Osama created al-Qaida (The Base) - it focused on symbolic acts of terrorism

His group has been linked to several massive terrorist attacks, including 9/11

Osama remained in hiding issuing fatwas and taunts over radio and TV and recruiting young enthusiastic jihadis to his cause
Image retrieved from Google. Will remove at owner's request.
Osama Bin Laden video address
2007 - The identity of Bin Laden's most trusted courier is revealed

2009 - Intelligence reveals the location in Pakistan of Bin Laden's compound

August 2010 - Intelligence identifies the Abbottabad compound as the home of the courier and his brother. The men have no obvious means that they can afford the
$1 million home

September 2010 - CIA informs President Obama that they believe Bin Laden to be living in the Abbottabad compound

14th March 2011 - President Obama chairs the first of five National Security Council meetings to discuss the operation to raid the compound and to capture or kill Bin Laden

29th March, 12th, 19th, 28th April 2011 - Consecutive National Security Council meetings

29th April 2011 - President Obama gives the order to raid the compound at 8:20am EDT

2nd May 2011 - In the early morning in Pakistan, 25 Navy Seals raid the compound

They arrive in Abbottabad in 2 Black Hawk helicopters

The Navy Seals breach the outer walls, before fighting their way through the ground floor of the 3 story building

They then move to the second and third floors where Bin Laden's family live

The operation takes a total of 40 minutes and in the last 5-10 minutes Bin Laden is killed by a gunshot wound to the head, just above the left eye

3 men, including a son of Bin Laden, and one woman are also killed

Bin Laden's body is identitifed by one of his wives and with the help of facial recognition

2nd May 2011 - B

in Laden is buried at sea off the deck of the USS Carl Vinson

in the Arabian Sea

He is buried within 24 hours according to Islamic law, with an hour-long ceremony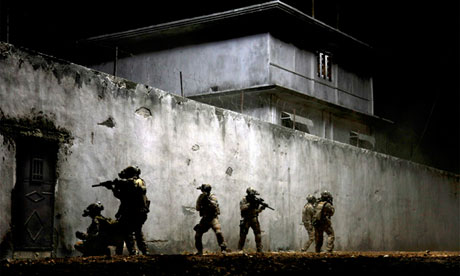 Image retrieved from Google. Will remove at owner's request.
Footage from film Zero Dark Thirty - accurately mimicking the raid
Facts:
The official name for the operation was; Operation Neptune Spear

The operation was watched live and consulted in the White House's situation room



Image retrieved from Google. Will remove at owner's request.




Inside the situation room during the raid

The compound:

Lacked telephone and internet service

The residents burned their rubbish instead of it being collected

Around 24 people lived in the house

It was surrounded by 12-18 foot walls topped with barbed wire

Things found in the compound:

10 hard drives

5 computers

Over 100 storage devices; discs, DVDs, thumb drives

Pornography

Large quantities of opium

3 AK-47s and pistols
Image retrieved from Google. Will remove at owner's request.
The Compound and a breakdown of events
Osama Bin Laden:

Wore a cowboy hat when he was out so that satellites/drones could not detect him

He never left the compound since he moved in, in 2006: self-imposed prison

He was supposedly pulled over for speeding but was never recognised

He was soft-spoken and left handed

He was a 'master of poetry' and had a vast knowledge of literature
There have been several conspiracy theories over the years and during the immediate aftermath that there was a lack of physical evidence and that many people on the internet believe that he has not been buried at sea. Some people believe he was never killed and other believe he is being held at Guantanamo Bay.The media and Hollywood have also fed off of the event and films have already been made documenting the operation. Several books have also been released. Amougst the film are Zero Dark Thirty, Seal Team Six, and the tasteless and stupid film Ozombi.
Image retrieved from Google. Will remove at owner's request.
Ozombie Film
Don't forget to follow @Ydaysnews for more historical events each day!