26th March 1999
This day in history...Jury finds Dr. Jack Kevorkian guilty of second-degree murder for giving a lethal injection to a terminally ill man
The story and life of Dr. Jack Kevorkian is very controversial. The majority of his life was spent highlighting the issues encompassing euthanasia and campaigning for its legality in America, and essentially the rest of the world. There are many different debates surrounding Dr. Jack's beliefs, intentions and actions. Some describe him as 'Dr. Death' and 'Jack the Dripper', too obsessed with his interest in death; while others consider him as the poster boy for legislative reform and as a man who moved the medical debate forward. You can make up your own mind about Dr. Jack, but lets first look at his story.
Image retrieved from Google. Will remove at owner's request.
Time Magazine nickname him Dr. Death
Early Life: Kevorkian was born in Pontiac, Michigan to Armenian immigrants in 1928. He had 2 sisters, Maragret (eldest), and Flora (youngest). Kevorkian was born as Jacob but soon obtained the nickname Jack. When he was 17, Kevorkian graduated from Pontiac Central High School in 1945 with honours. He excelled in school and had even taught himself German and Japanese. (His aptitude for languages grew and by the time he was 20 he had learned seven languages). In 1952, Kevorkian graduated from University of Michigan Medical School in Ann Arbor, and he completed his residency training in anatomical and clinical pathology with brief research on blood transfusion. Kevorkian failed to function effectively as a hospital pathologist, left the active practice of medicine and for a time was even homeless - he never married.
Image retrieved from Google. Will remove at owner's request.
Jack Kevorkian on the far right, pictured in his Yearbook, 1952
Career
: Over the decades Kevorkian developed several controversial medical ideas and in 1958 submitted a paper to a meeting of the American Association for the Advancement of Science. His paper proposed that murders on death row should be given the option to execution with anaesthesia so that they could donate their organs to research. This was unsuccessful. When working as a pathologist at Pontiac General Hospital, Kevorkian experimented with transfusing blood from the recently deceased in to live patients. He drew blood from corpses recently brought into the hospital and transferred it successfully into the bodies of hospital staff members. He believed that the US military might be interested in using this technique to help wounded soldiers during battle - the Pentagon was not interested.
In the 1980s, Kevorkian wrote a series of articles for the German Journal Medicine and Law laying out his thinking on the ethics of euthanasia. Following this, in 1987, he started advertising in Detroit newspapers as a physician consultant for 'death counselling'. His first public assisted suicide in 1990 was of Janet Adkins, a 54 year old woman diagnosed in 1989 with Alzheimer's disease. His Thanatron (Death machine) was used to assist Adkins in the back of his van, with him in attendance. The Thanatron involved the patient pushing a button that delivered the euthanizing drugs. Kevorkian reported the body to the police but charges were dropped as there was no law in Michigan at the time, regarding assisted suicide. In 1991, however, the State of Michigan revoked Kevorkian's medical license made it clear that he was no longer to practice medicine or do work with patients.
Image retrieved from Google. Will remove at owner's request.
Dr. Kevorkian with his Thanatron Machine
According to his lawyer Geoffrey Fieger, Kevorkian assisted in the deaths of 130 terminally ill people between 1990 and 1998. In every case, the individuals themselves allegedly took the final action of pushing the button, resulting in their own deaths. Kevorkian's only role in the deaths was allegedly just attaching the individual to a euthanasia device. Now onto today's particular event in Kevorkian's life. In 1998, Kevorkian allowed the airing of a videotape he made on CBS News' 60 Minutes. The videotape depicted the voluntary euthanasia of Thomas Youk, 52, who was in the final stages of Lou Gehrig's Disease. After Youk provided his fully informed consent, Kevorkian himself administered the lethal injection. This was highly significant as all of the earlier clients had reportedly completed the process themselves. Kevorkian dares the authorities to try and convict him or stop him from carrying out mercy killings in the videotape. Youk's family described the lethal injection as humane - not murder. On March 26th 1999, however, Kevorkian was charged with second-degree murder and the delivery of a controlled substance. He was sentenced to 10-25 years in a prison in Coldwater, Michigan. Kevorkian was denied parole several times and it wasn't until 2007 when he was reportedly terminally ill with Hepatitis C, that he was paroled for good behaviour. He spent 8 years and 2 and half months in prison.
Image retrieved from Google. Will remove at owner's request.
Kevorkian being taken to prison, 1999
After Prison
: Kevorkian was not allowed to help anyone else die, or provide care for anyone older than 62 or disabled. He agreed he would abstain from assisting any more terminal patients with death and that his role would strictly be to persuade states to change their laws on assisted suicide. Kevorkian spent the next few years travelling the country doing lectures at Universities and interviews for TV programmes like CNN and Fox News. The film "You don't know Jack" was also released in 2010 on HBO about Kevorkian's life, with Al Pacino portraying him in the film. Kevorkian also ran for Congress in Michigan but only received 2.6% of the vote. As Kevorkian had been suffering from Kidney problems for years, he was diagnosed with liver cancer, which may have been cause by his Hepatitis C. He was hospitalised in 2011 with kidney problems and pneumonia and on June 3rd 2011, 8 days after his 83rd birthday, Kevorkian died from thrombosis.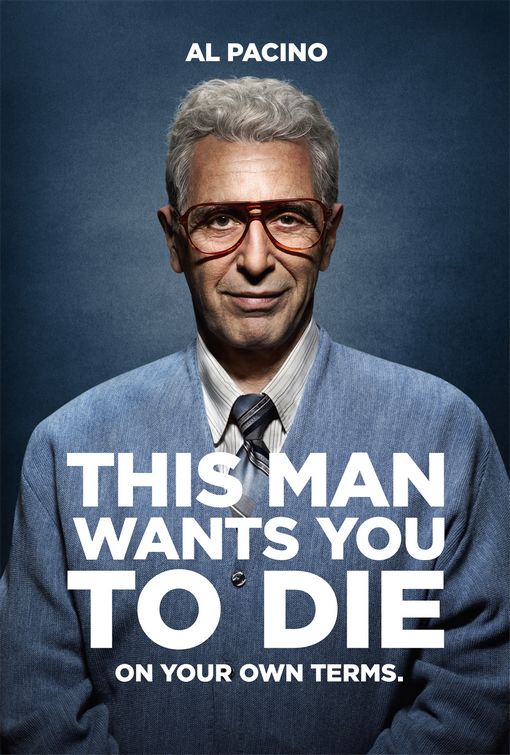 Image retrieved from Google.
Will remove at owner's request.
Al Pacino's poster from the film
"You don't know Jack"
Image retrieved from Google. Will remove at owner's request.
Kevorkian in his own home made stocks to make a point about common law
Legacy
: According to reports by the Detroit Free Press, 60% of the patients who committed suicide with Kevorkian's assistance, were not terminally ill and at least 13 had not complained of pain. The report also continues on to say that Kevorkian's counselling was too brief as most people died within 24 hours of their first meeting with Kevorkian. The report also explains that most of the time, Kevorkian didn't refer people to seek professional medical help before their decision making process. However it is believed that Kevorkian declined 4 out of every 5 assisted suicide requests, on the grounds that the patient needed more treatment or that medical records had to be checked. It is believed that the work Kevorkian did, inspired and prompted the legal assisted suicides in Switzerland, and many viewed him as a 'major historical figure in modern medicine.' Although he left behind a 'deadly legacy that denied scores of people their right to humane deaths', he moved the debate forward in ways that the rest of us can only imagine. He got people starting to think and talk about the issues.
The epitaph on Kevorkian's tombstone reads: "He sacrificed himself for everyone's rights."
Image retrieved from Google. Will remove at owner's request.
Dr. Jack Kevorkian
Other Little Facts
: In his lifetime, Dr. Jack was an avid enthusiast of Jazz and art. He was a jazz musician and composer and even released a limited CD with only 5,000 copies in 1997. It featured Kevorkian on the flute and organ playing his own works. It was reviewed as 'weird' but 'good natured'. He was also an oil painter. His work was often toward the grotesque and macabre; he sometimes painted with his own blood, and created pictures such as one "of a child eating the flesh off a decomposing corpse." The sludge metal band Acid Bath used one of his paintings for the cover art of their 1996 album Paegan Terrorism Tactics.
Image retrieved from Google .Will remove at owner's request.
Various art work of Dr. Jack
So what are your thoughts about 'Dr. Death' AKA Dr. Jack Kevorkian? Do you think assisted suicides should be legal everywhere? And do you think he went about it in the right way?
Please leave your comments below
Don't forget to follow @Ydaysnews for more historical events each day!